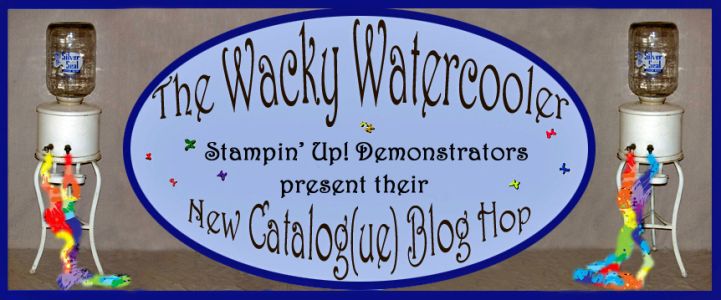 Welcome to our first Wacky Watercooler Hop! It is always a treat to view the talents of others. This hop will give you a glimpse into the wonderful world I get to share with fellow Stampin' Up! Demonstrators. We meet as frequently as our schedules allow in a virtual forum. We are around the globe now, and to meet in person would be really difficult given time differences -- not to mention distance. Anyway, I am happy to share with you their creativity.
If you have landed here after viewing Kath's blog, you are hopping along the designed pathway. If not, no harm, no foul. All the navigational buttons are below my cards in this post. If you want to back track, click on the "previous" watercooler button. If you want to start at the very beginning of the blog hop, press "home". If you are finished with mine, and want to continue in order, press "next".
*****
It wouldn't be summer without a "Christmas in July" card. Christmas cards really are one of my favourite cards to make. I get very interested in design and colour. One card leads me into another, and before you know it, I have 80 cards! However, ask me to make several cards exactly the same -- well -- that's not my strong suit.
The vertical lines are from the Gorgeous Grunge stamp set. I coloured the lines with markers and stamped before running the whisper white cardstock through the Big Shot in the Mosaic embossing folder. Notice, too, that there is a co-ordinating punch for the mosaic stamp set and embossing folder.
Stamps: mosaic madness, gorgeous grunge
Ink: gumball green, coastal cabana, cherry cobbler
Paper: cherry cobbler, coastal cabana, wild wasabi, whisper white
Other: mosaic embossing folder, Big Shot, mosaic punch


***
Perhaps you are feeling a little ill thinking about Christmas when you've only recently experienced the warm weather of summer. Have no fear! Here is a get well card to ease your woes.
This is about as close as I come to monochromatic. I usually have at least three colours, but for some reason this stamp set almost always convinces me to limit the amount of colour I use.
The trick with this card is to ink up the honeycomb embossing folder before putting the whisper white cardstock in it. Press the inkpad directly on the embossing folder. The new firm foam inkpads make this technique super easy -- no brayer required!
Stamps: blooming with kindness, delightful dozen, mosaic madness
Ink: crisp cantaloupe, gumball green
Paper: whisper white, crisp cantaloupe
Other: honeycomb embossing folder, Big Shot
***
Have you even noticed how flowers appear in the heat of the day? How the colour of each flower seems to glow beyond the flowers' edges? This is what I am trying to capture here. Of the three cards I made for this Blog Hop, this one is my favourite.


I really enjoy mixing and matching colours from different colour families. You get some very interesting results.

Stamps: gorgeous grunge, flower shop, express yourself
Ink: calypso coral, coastal cabana, strawberry slush
Paper: calypso coral, coastal cabana, strawberry slush
Other: pansy punch, pearl basic jewels
***
That concludes my contribution to this first Wacky Watercooler Hop. Thank you so much for hopping by! All comments are encouraged and welcomed. Click on the watercooler below that best suits your needs. Happy hopping!